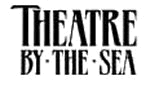 presents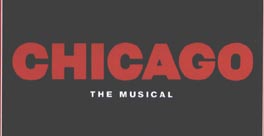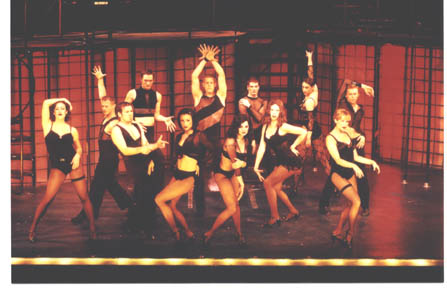 Photo credit: Mary Lauzon
(from left) Julie Tomaino, Gadi Schor, Reed Davis, Kevin Dunnigan, Carissa Lopez, Kevin Steele, Michelle Alyse Ouellette, Tim McGarrigal, Emily McNamara, Laurena Barros, Robin Levine and Leo Ash Evens
Director and Choreographer
BRETT SMOCK
Music Director - Tim Robertson
Costume Designer - Laura Simcox
Scenic Designer - Jeff Modereger
Light Designer - Kenton Yeager
Production Stage Manager - Amanda Waterhouse
Sound Designer - Walter Trarbach
Reviewed by Don Gillis, June 27, 2003
Theatre By The Sea's second production of this summer season series is the popular Tony Award winning musical, CHICAGO. Fourquest Productions , with producers Laura Harris and Renny Serre with co-producer Marcy Simpson have assembled a most talented eighteen member cast that will have you standing on your feet at curtain time.
Cast member , Katie Cameron was supposed to play the role of Velma Kelly, but a foot injury sustained during Wednesdays' performance prohibited her from performing, so understudy and Associate Choreographer/Dance Captain, Robin Levine filled in for her. Robin shines and performs with her sidekick murderess, Roxie Hart, aptly played by a redheaded dynamo, Kendra Madigan. These two ladies on stage were phenomenal! The female and male dancers added so much to this production. The costumes were amazingly colorful and sexxxxxxy and choreography was absolutely the best
Christopher Carl is a standout as Billy Flynn, the egotistical lawyer for both girls. His scenes are showcase numbers, with girls all around him with the typical 1920's paraphernalia feather fans. His songs were all good, but when he sings Razzle Dazzle with the ensemble in the second act (with the "black" lighting), my hands hurt from applause when the number finished. He had just the right presence about him to make the audience love or hate him. A personable character portrayal by a talented guy.
Amos Hart, is played so well by Jim Ferris. His "Cellophane Man "number is a joy! He gains your sympathy as the almost invisible husband".
Making her summer debut at TBTS is the wonderfully talented Broadway veteran, Margery Beddow portraying Mama Morton. She is an amazingly talented lady and classy with her rendition of the Mama who takes care of her girls. She is a standout in the "Class" number with her sidekick Velma.
Mary Sunshine is played by R. Lowe who has you wondering if he is a female or a male with an operatic voice (" A Little Bit of Good") that soars thoughout the playhouse. At curtain call, he comes out with the wig off and we know it's a male.
Supporting roles in this production are numerous as some players were double cast. One of these that caught just about everyone's eye in the jury number scene was played by Kevin Steele. You had to see this guy to believe all the roles he diversely portrayed so funny.
This version of Chicago is a class act from the "All That Jazz" number to the finale. A very warm night on press night did not deter these players. They danced and sang their hearts out to a well deserved standing ovation. I cannot say enough about this show - costumes, lights, set design and especially the choreography and direction- all perfect with an expertly talented orchestra conducted by Tim Robertson. Get yourself down to Matunuck and see for yourself - it is truly an AWESOME show! WOW!
A picture is worth a thousand words they say - check these out.
I love feed back, say hello!
Don Gillis
Little Rhody Theater
CHICAGO
Theatre By The Sea -June 24 - July 19, 2003
364 Cards Pond Road, Matunuck, RI 02879
(401) 782-3644
---