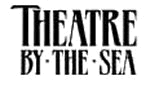 presents
Cast
The Family
Mary Lennox - Casey McIntyre
Archibald Craven - Norman Large
Colin Craven - Tristan Viner-Brown
Neville Craven - David Elledge
The Staff
Mrs. Medlock - Mary-Ann Trippett
Martha - Kelli Maguire
Dickon - Daniel Frank Kelley
Ben Weatherstaff - Gordon Gray
Mrs. Winthrop - Kyrst Hogan
The "Ghosts"
Capt Albert Lennox - Stephen Mitchell Brown
Rose Lennox - Bianca Carragher
Lily - Lisa Trader
Lieutenant Peter Wright - Leo Ash Evens
Lieutenant Ian Shaw - Neil G. Santoro
Major Holmes - Shawn Cox
Claire Holmes - Kyrst Hogan
Alice - Lindsay Packard
Ayah - Joanne Javien
Fakir - Fausto Pineda
The Servants
William - Kevin Dunnigan
Timothy - Reed Davis
Jane - Laurena Barros
Betsy - Katalin Wargo
Jamison - Christopher Monteith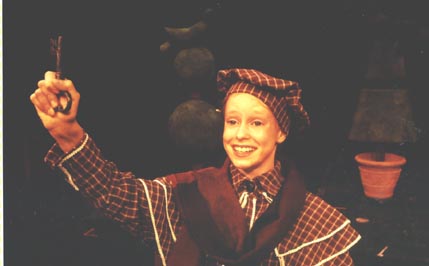 Photo by Mary Lauzon
Casey McIntyre portrays Mary Lennox
Reviewed by Don Gillis, July 25, 2003
THE SECRET GARDEN is a musical retelling of the classic novel by Frances Hodgson Burnett. When everyone she knows dies of cholera, Mary Lennox (Casey McIntyre) must leave her home in India to go to North Yorkshire, England. There she will live with her Uncle Archibald (Norman Large) who is haunted by the memory of his deceased wife, Lily (Lisa Trader). In the big, lonely house, Mary is haunted by the ghosts of her parents and their friends. She also makes intriguing new friends: her chambermaid, Martha (Kelli McGuire), the gardener, Ben (Gordon Gray) and a magical boy named Dickon (Daniel Frank Kelley). As she stays in the house, Mary also discovers the anger and pain of her uncle's brother, Neville (David Elledge), the hidden life of her cousin Colin (Tristan Viner-Brown), and the beautiful world of a secret garden, cherished by her aunt Lily and locked away since her death. It is then that Mary begins her quest to bring the garden, and the house, back to life.
I was amazed at lots of things in this production. The fast paced scene changes (24 of them I counted) were so well executed that you hardly knew that a set was being changed thanks to the wonderful talents of Scenic Designer Jeff Modereger, and Director-Choreographer Andrew Glant-Linden. The lighting by Kenton Yeager was wonderful!. Costumes by David T. Howard were beautiful and the sound was perfect. The musical quality by an amazing young talent Karl Shymanovitz and his musicians were a joy. Assistant to Mr. Glant-Linden was Beverly Brennan.
The story is fast paced and if you have never seen this production you will have to keep alert - just to understand the relationships and the ever changing scenes. The ghosts in this production added so much to this story - I can't imagine it without them - they guide and help Mary adjust to her new life in England. They weave in and out of the story with ease.
The four family members Mary, Archibald, Colin and Neville were excellently portrayed and their singing was outstanding. Speaking of the singing, this production is mostly all singing, so listen to the lyrics or you will miss the story. There is narration also which helps you to understand the changing scenes and plot..
Some outstanding stage moments are in store for you, and I am sure that you will pick a particular scene that you will remember about his show. I was impressed with the entire cast - all were so professional.
Its almost impossible to single out an outstanding performer however, some of my favorites were Mary's maid Martha. When she is on stage - you will definitely notice her as you would her younger brother Dickon. Another standout was (Tristian Viner-Brown as) Colin Craven , Mary's invalid cousin, a young teen with an incredible voice and terrific acting . "Come To My Garden" which he sings with his mother Lily was touching and so beautiful. Another heart rendering presentation was "How Could I Ever Know" sung by Lily and Archie.
I cannot say enough good things about the direction and choreography by Andrew Glant-Linden.
The Secret Garden - fabulous music, brilliant designs, outstanding direction and choreography, and a tear jerking touching story - a magnificent production!
Don Gillis, Little Rhody Theater
The Secret Garden (July 22 - August 16, 2003)
Theater-By-The-Sea
364 Cards Pond Road
Matunuck, RI 02879
(401) 782-3644
---