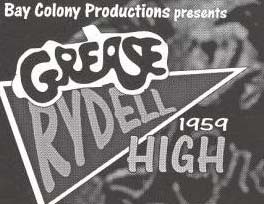 Directed and Choreographed by
Marianne Lonati
Musical Direction by Robert J. Goldman
Produced by Bill Cunningham

Set Design - David DaCosta
Light Designer and Stage Manager - Michael J. Teixeira
Sound - Dramatic Sound
Costumes - Daniel Kozar
Make-up - Daniel & Atia DeRosa-Gravely
Stage Crew - Samantha Jones, Alexandra Lonati
Fly Rail - Charles Maguire, Doug McDougal
Properties - Carol Cahill, Gail Gilman
Set Builders - Dave DaCosta
Painters - Cathy Corcoran, Marianne Lonati
Sound Board Operators - Ed DiMarzio, Pat Dzierzak
Reviewed by Don Gillis, June 20, 2003
Bay Colony Productions takes you back to the 1950's when rock and roll was at its peak of popularity. Judging from the younger audience on opening night, it was evident that rock & roll is here to stay! This high energy cast under the direction of Marianne Lonati capture the period and provides the audience with some great scenes and dance numbers.
"Grease" is a popular show with young and old and has been especially popular with the younger kids since the movie was produced many years ago. This production has some great moments and you find yourself toe tapping and humming some of the songs. George A. Scala III as Danny Zuko and Melissa Runde as Sandy Dumbrowski are the leading male and female roles as boy meets girl, boy almost looses girl. They are joined by the pink ladies, Chrissy Fresco as Jan, Laurie David as Marty, Sarah Gregonis as Frenchy, and Casey Ristaino as Betty. Burger Palace boys were Matt Whitman as Doody, the youngest of the bunch, Jeff Mahoney as Roger, Greg Hildreth as Sonny, and Christopher Mack as the tough guy, Kenickie.
Supporting roles were Wendy Drescher as Miss Lynch , a believable old maid school teacher, Sarah Kingsbury, the goodie-goodie cheerleader, Patty Simcox, Gretchen Hartig as Cha-Cha, Kenickie' s prom-night "date". Owen Scott portrays the nerdy Eugene Florczyk while D. William Walsh is the hip DJ, Vince Fontaine and Daniel P. Gravely as Teen Angel who attempts to get Frenchy back to high school.
There are many bright moments in this show with a talented cast and ensemble and some of the best choreography that you will see around. Marianne Lonati has a perfect dance ensemble with outstanding and creative dance steps that blend right into the story. One of the highlights for me was the" Born to Hand Jive" number, but the overall choreography excelled in all the ensemble numbers.
Ensemble (Class of 1959 members), Molly Allendorf, Sarah Bernard, Katie Cushing, Robin Dutra, Madelyn Frascella, Steven Goldman, Steffani Johnson, Molly Koch, Kerri Lydon, Thomas McCartney, Elizabeth Mercadante, Ted Nesi, Jenna Quartarone, Kristen Quartarone, Matthew Rickard, James Shea, Brittaney Talbot, Lindsey Tulloch and Alyssa Wood added a new dimension to this original script which does not call for a chorus. The Rydell High "students" excitement and enthusiasm is evident as they refresh each group number.
An exhilarating cast provide a tempo and beat that will have you singing and brighten up your evening. Costumes, lights, and music make the show even better -credit to those people involved in all aspects of this production. For a fun look at the Class of '59 , with lots of talent on the Orpheum Regional Performing Arts Center stage - go see GREASE!
Don Gillis
Little Rhody Theater
ORPHEUM REGIONAL PERFORMING ARTS CENTER
Bay Colony Productions (June 20 - 29, 2003)
GREASE
1 School Street
Foxborough, MA
(508) 543-2787

---