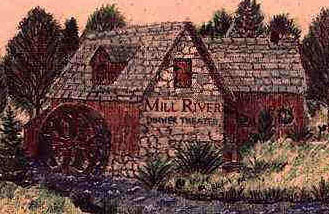 presents
PAGEANT
The Musical
Book and Lyrics by Bill Russell and Frank Kelly
Music by Albert Evans
Directed by Chuck PetitBon

Executive Producer - Marcia PetitBon
Music Director - David D'Amico
Choreographer - Dana Damiani
Stage Manager - Heather Carey
Costumes Marcia PetitBon & Cast
Lighting & Sound - Eric Desnoyers, Emma Hookway
Set Design - Chuck PetitBon
Crew: Sylvia Witschi, Charlie Carey, Liz Hookway, Sara Dandurand, Emily Mahar, Jessie Hookway
CAST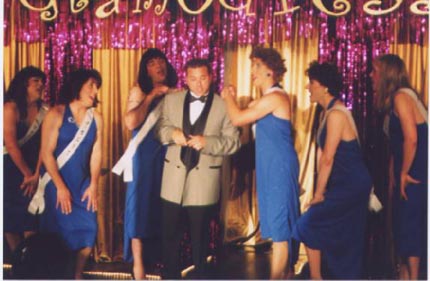 (l-r) Mark Smith, Rob Reale, Scott Schleicher, Ken Koury, Luke Riskalla, Gary Jacques, Jim Nispel
Miss Bible Belt - Gary Jacques
Frankie Cavalier - Ken Koury
Miss Deep South - Jim Nispel
Miss Texas - Rob Reale
Miss Great Plains - Luke Riskalla
Miss Industrial Northeast - Scott Schleicher
Miss West Coast - Mark Smith
Reviewed by Don Gillis, June 29, 2003
Mill River's current production is about beauty pageants only this one has a twist to it because the contestants, all hoping to represent a fictional cosmetic company Glamouresse, are six men playing the female contestants!
Chuck PetitBon, director and owner of Mill River ,with his wife Marcia ,executive producer showcases this cute little piece of musical fluff by Bill Russell and Frank Kelly to amuse the locals. And amusing it certainly is..in fact its a hoot !!. When you see the likes of six men, all dressed as women, it's certainly going to be different. The hopeful contestants are noted above and each one has his own little spot to shine for the audience.
These six guys (ladies) go through evening gown, swimsuit, talent, and beauty crisis counseling along with vying a spot as a "spokes model" selling products for Glamouresse, such as hairspray (with ozone repair), smooth as marble facial spackle, solar rollers, and other ridiculous beauty and nonsensical products.
There are many bright moments in this "pageant". The actors all look and act like females, both in poise and facial expressions. Add Marcia PetitBon's costumes on these gentleman, and we have a hoot of a show. I thought Miss West Coast was a female for sure, but after the show I found out that cosmetics can do wonders...hmmmm.
This show worked for me. I think that one of the reasons was because I have never seen anything like it locally , and because the men played the women so well staying in character , that you had to admire their guts.
The music was light and choreography was simple, but nicely done. If I had to choose the winner, I could not. I am glad that I was not one of the judges for these fine ladies (guys) - each did something to make you remember them.
What would a beauty pageant be without an emcee? Well, this one had an upbeat Ken Koury playing the emcee, Frankie Cavalier (who changed costumes almost as many times as the girls did!). He kept the pace going and had a few scenes with the girls (and the audience). He looked like he was having fun up there.
Musical director, David D'Amico did a fine job as always with the vocals.
This show is hilariously funny as each actor has individual performances , one bound to be your favorite. I highly recommend this musical spoof - it's different - and just plain 'fun'.
Go see for yourself - Mill River is the place to be! It plays until July 27th. Reservations are required.
Don Gillis
Little Rhody Theater
PAGEANT (June 21 - July 27, 2003)
Mill River Dinner Theater
499 High Street
Central Falls, RI
(401) 721-0909

---