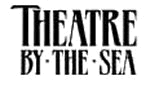 presents
III LOVE YOU
YOU'RE PERFECT,
NOW CHANGE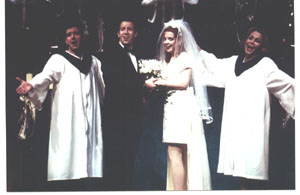 Photo Credit: Mary Lauzon
Brandon Williams, Tally Sessions, Bridget Crawford, Carter Calvert
Directed and Choreographed by
Gary John LaRosa
Reviewed by Don Gillis, June 7, 2003
Fourquest Entertainment has done it again with a witty and very entertaining musical comedy done in vignette's with a cast of only four people and 2 musicians. Two men, Tally Sessions, and Brandon Williams team up with two females, Bridget Crawford and Carter Calvert for some very entertaining scenes. The show is a series of skits about relationships. The premise of the show is easily understood and the audience on press night was in laughter throughout the evening with the talents of these four actors.
There are 11 skits in the first Act and 8 in Act II with songs, some dancing and LOTS of movement. Choreographer Gary John LaRosa is a master at movement which shows in this production - the scene with four chairs acting as a car in The Family That Drives Together is delightfully choreographed as well as the rest of the show. The choreography in this show is one of the best parts of the show, as the skits are dependent on how the actors are moved around. Mr. LaRosa has a delightful cast to work with. Just four people and one is just as talented as the other. They switch off partners and to see them interact with the other partner in a different skit is amazingly well done.
I was especially taken by (and I hate to pick one) but he cracked me up - Brandon Williams . He had me laughing all night as he had a manner about him that just made me LAUGH and I found myself watching him more than the others. The other three were very good and have some superb moments in each of the skits they are involved in.. Tally Sessions was a laugh riot with his costumes and his facial expressions were amusing (he reminded me of Seymour in Little Shops of Horrors). His voice was excellent and his singing was right on.
Female cast members Bridget Crawford and Carter Calvert were just the right choices for the show. They excelled in all the skits and vocally were very strong. Bridget Crawford's monologue in the second ACT about the video of Rose Ritz portrayed her excellent acting abilities. Carter Calvert has a CD out that you can purchase at www.CarterCalvert.com. She is married to the musical director, Bill Stanley who did the music for Smokey Joe's Cafe last season. (My favorite show from last season).
The cast will make you laugh, cry and everything in between with the clever direction and talents of each member. There are numerous scene changes, and the set was unique in that they did not "fly" - so all the props and furniture had to be carried in - the crew did an outstanding job in a short time. I could not count the costume changes, but I think they were as numerous and as demanding as the roles themselves. Costumes were period for each skit, and the thing about this show is that it could be done 30 or forty years from now, and with just a few changes, still be timely - that is perhaps the reason this show was the longest running off-Broadway revue in history. This is a wonderfully executed production of I LOVE YOU, You're Perfect, Now Change. Get your tickets soon, the theater buzz is that this show is selling out fast! I LOVED IT!
Don Gillis, Little Rhody Theater
I LOVE YOU, YOU'RE PERFECT, NOW CHANGE
Theater By The Sea June 3 - June 22, 2003
364 Cards Pond Road
Matunuck, RI 02879
(401) 782-3644

---